2020-03-06 11:10:45
Let's build a great website together.
We can bring your web design vision and ideas to life through innovative custom design for your business. We work on hundreds of websites a year, and bring unique insight from our deep experience.
350+ Web Design Case Studies
Coalition's web design team has built hundreds of world class websites with very high returns on investment. We specialize in helping businesses build eCommerce and lead generation focused websites.
Design
Development
eCommerce
Content Management
Workflow Systems
Custom Apps
Get a FREE Project Plan and Scope Now
What Kind of Website Do You Need?
We have over 200 team members specializing in diverse platforms, coding languages, frameworks, and industries. Whether you need a website for an ecommerce business, local lead generation, a custom application, or informational and entertainment purposes, we can help.
Ecommerce
Websites
Ecommerce Websites
Secure and Scalable.
Marketing Ready.
Mobile Friendly.
Lead Gen
Websites
Lead Gen Websites
Easy to Manage.
Search Optimized.
Highly Converting.
Custom
Websites
Custom Websites
Professionally Built.
Future Proof.
Top Frameworks.
Informational
Websites
Informational Websites
Quick to Update.
Great UX / UI.
Modern Designs.
Read about how Coalition's ecommerce site made a big impact for pink lily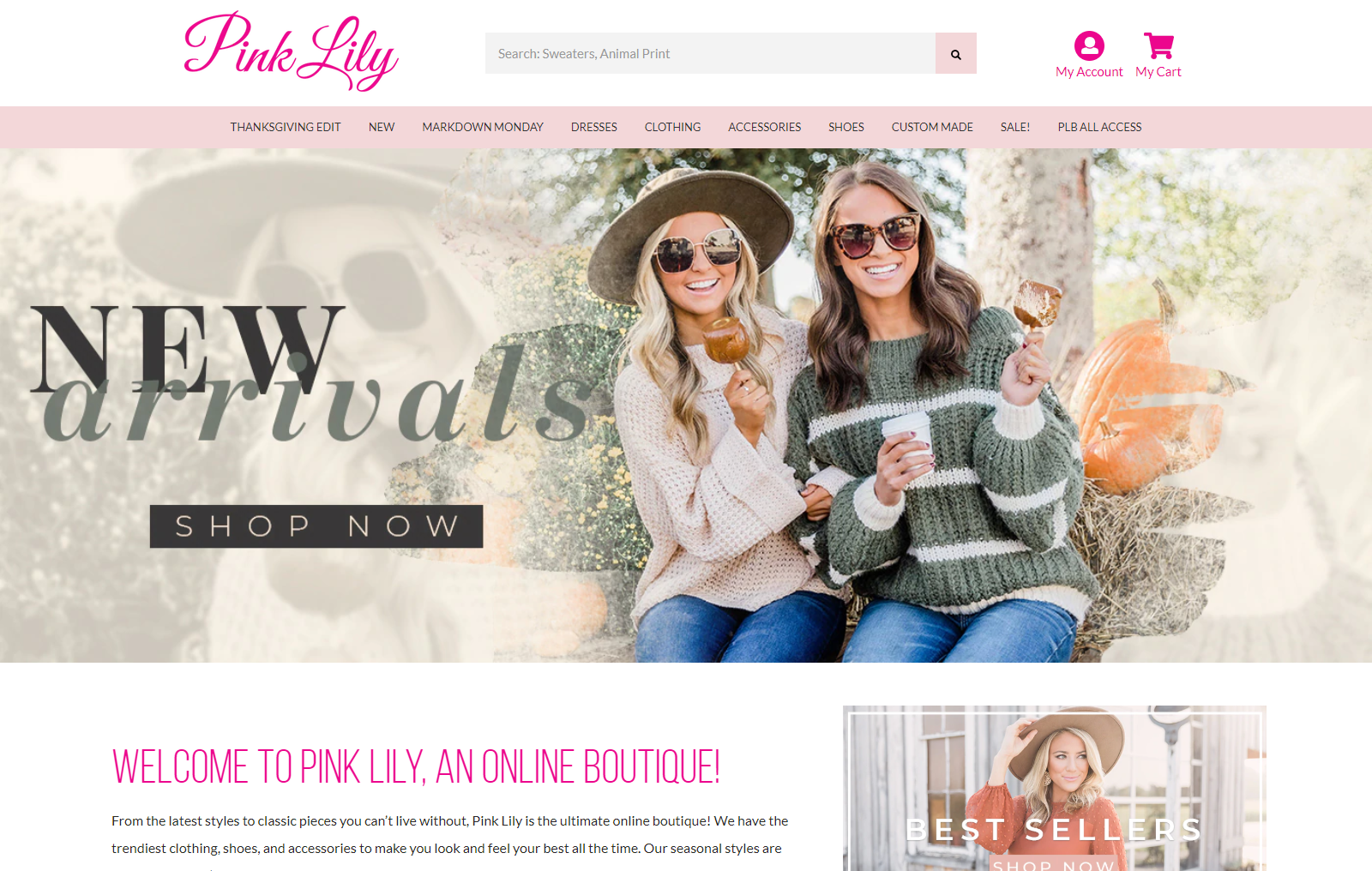 This fashion boutique came to Coalition because although they had a social media following, they were not seeing the revenue results they were looking for. We took over full online marketing including web development, Search Engine Optimization (SEO), Pay Per Click (PPC), paid social media, and email marketing. In their first year with us, this fashion retailer generated $2.5 million in revenue while spending only $100,000 on our services.
See Case Study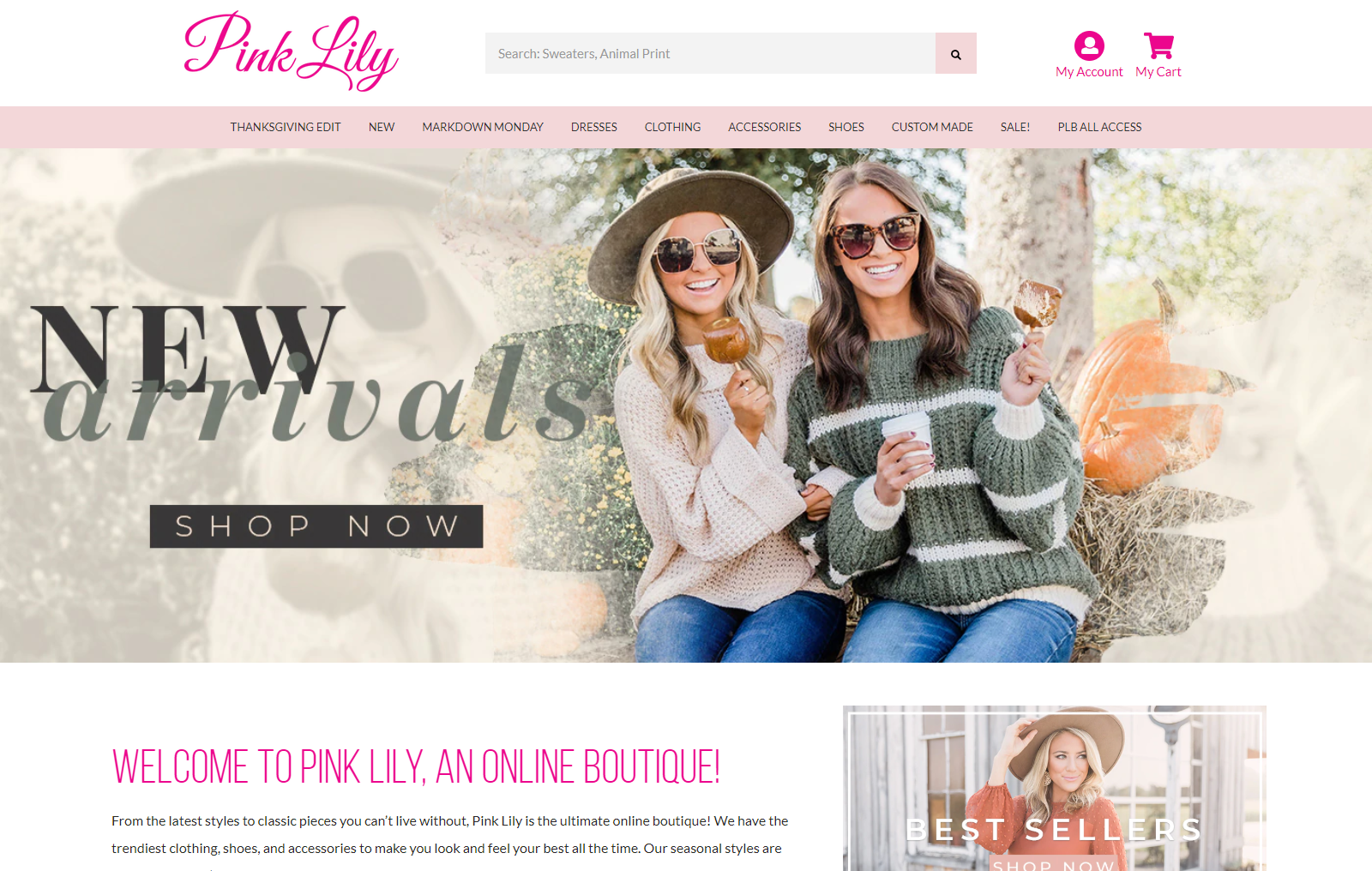 What Is The Best CMS For You?
Coalition actively reviews and evaluates the effectiveness of leading website content management systems. As your website design and development company, we expect our expertise to help guide you to the right website platform selection.
WordPress
Most popular.
Open Source.
Tons of apps.
BigCommerce
Open SaaS.
Friendly Catalog.
Lower Cost.
Shopify
Easy to Use.
Great for SMBs.
International Ready.
Magento
Enterprise Ready.
Open Source.
Massively Customizable.
Other Platforms
Other Platforms
Drupal, Joomla.
3dCart, Volusion.
Websphere, Netsuite.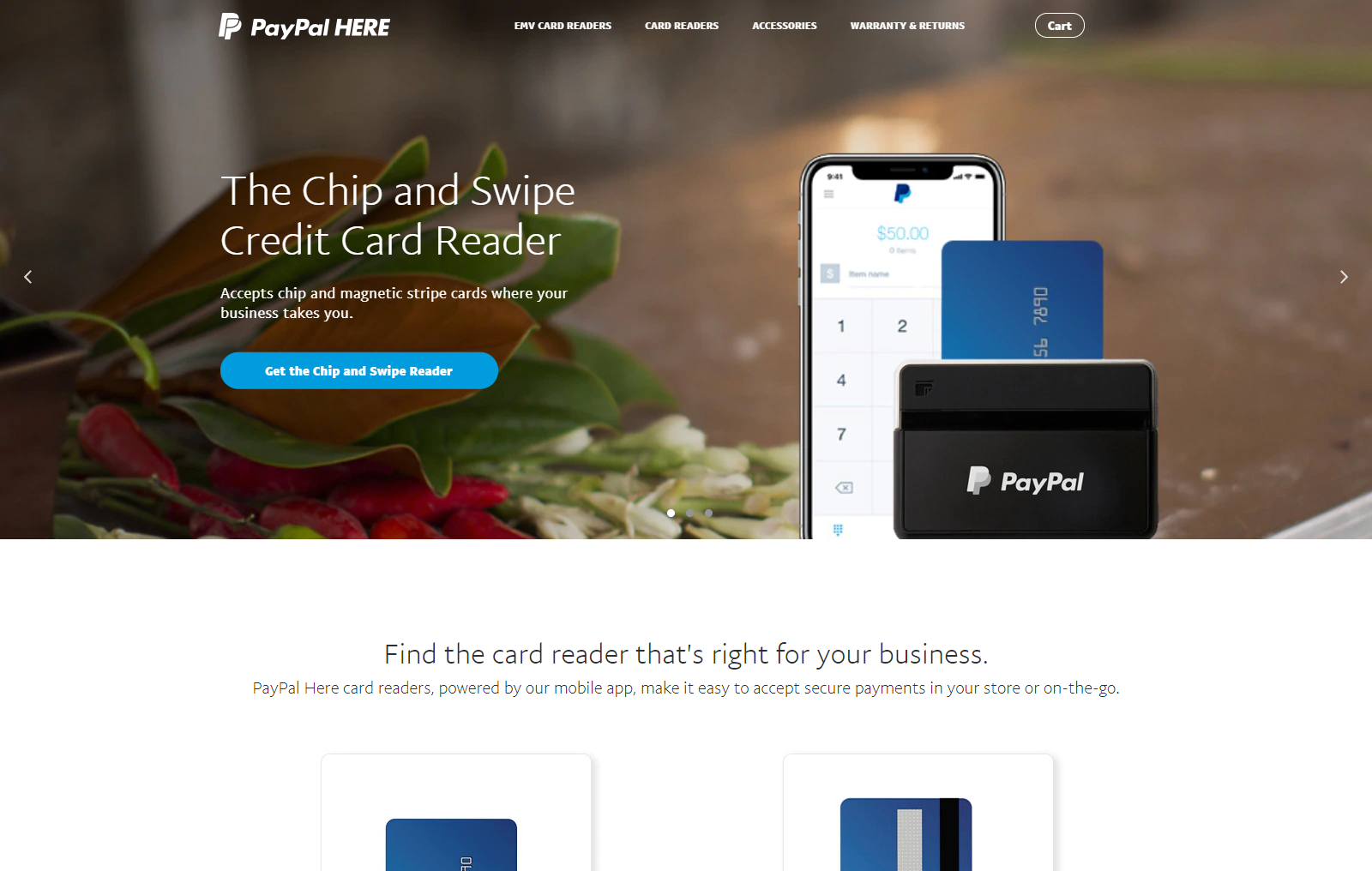 Discover the BigCommerce website design and development we did for PayPal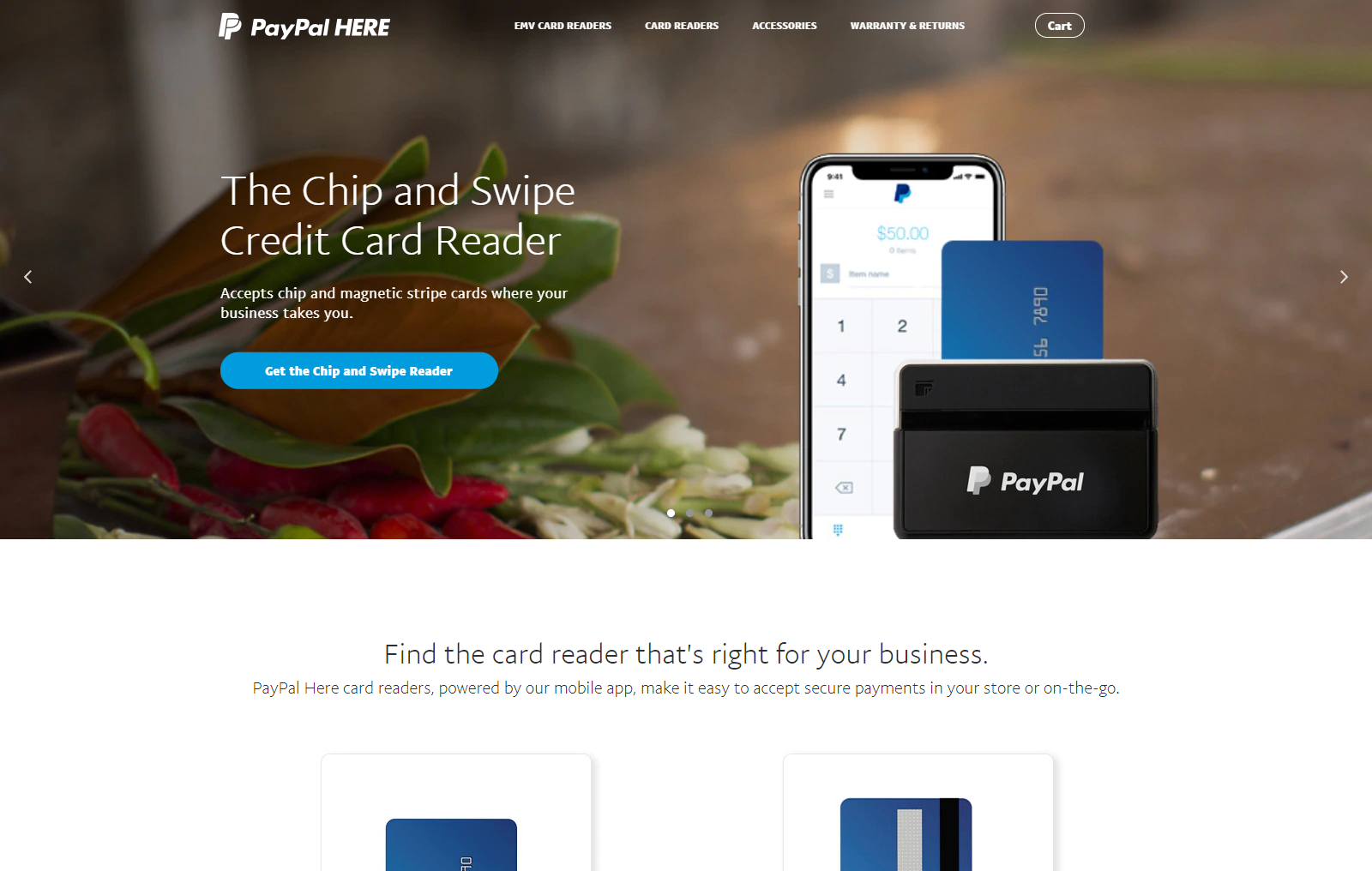 When you're a brand synonymous with ecommerce and online transacting, your choice in partners is critical. PayPal chose Coalition for its BigCommerce Enterprise store builds after an exhaustive vetting process that compared some of the ecommerce industry's leading agencies. Our knowledge of the SaaS ecommerce market, BigCommerce, and our ability to provide extensive custom development to support the brand's need were all winning factors. The mobile friendly, content rich ecommerce site stands out from typical ecommerce experience and captures the PayPal brand wonderfully.
See Case Study
What Our Clients Are Saying

They had a long list of satisfied customers that we could reference. They also delivered and met our goals each time we had a new project. Two years later, the relationship continues to succeed. Coalition Technologies is agile enough to respond to shifting requirements and consistent enough to deliver reliably high-quality results. Their effective communication and quick turnaround times make them a dependable partner.

I considered myself a small client of Coalition Technologies but I was very impressed that Joel Gross, the owner, personally oversaw the launch of my website re-design. Joel cares very much about the client's experience and that they are happy. I hold Joel personally in the highest professional regard and would not hesitate to reach out to him on any matter in the future. It's so rare in today's world to find somebody so passionate about client happiness and satisfaction.

It was a pleasure to work with Coalition Technologies. They were really very responsive in their replies and was able to complete the things that I asked in just a few days. I would highly recommend them for your SEO, social media, and website needs. They will surely be able to help you overcome any problems related to your business presence and sales.
Featured Projects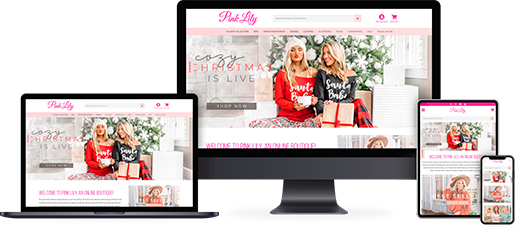 Pink Lily
See how our web development and SEM services helped Pink Lily generate $2.5 million in revenue in the first year of working with us.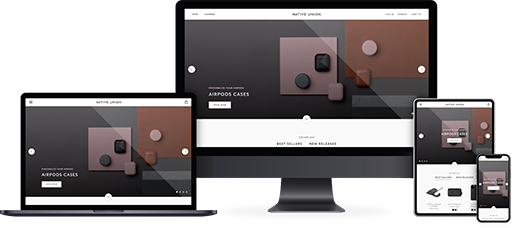 Native Union
Learn how our website redesign helped Native Union increase revenue by 20% month over month and organic traffic by 58% in just six months.
Our Work Includes 600+ Websites Built
Web Design Matters
Web Design impacts how users perceive your brand, and you only get one chance to make that first impression. Great web design will provide users with an intuitive, attractive experience across all platforms while informing them about your brand and increasing your conversion rate.
Responsive Design
Mobile users account for more than half of all website traffic and that percentage keeps rising.
To increase conversions and maintain your brand authority, we implement responsive web designs that will adjust to any screen size or platform for the best user experience.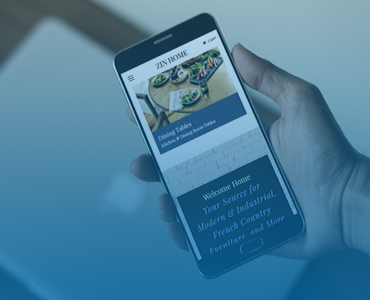 Integrated Marketing
Successful web design includes integrated marketing that targets your optimal user base. Our ability to integrate better tracking, analytics, SEO, SEM, social, and email marketing into your website build guarantees lower bounce rates and considerably more conversions.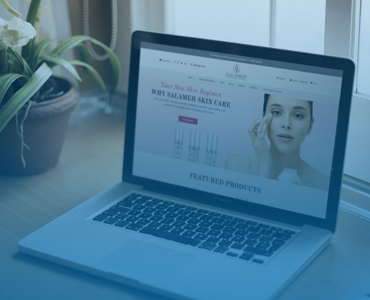 Web Design
We build responsive ecommerce, lead gen, custom, and informational websites that are attractive, intuitive, and optimized.
Web Development
Our web developers make your vision a reality. From front-end to back-end, we make sure every aspect of your website is executed with precision.
Branding
We start our process by learning everything we can about your brand and then we make sure that every element on your website reflects that brand to your users.
Online Marketing
Through targeted SEO, PPC, Email, and social media marketing, we increase brand awareness, organic traffic, and conversions in both the short- and long-term.
600+ Case Studies Driving Sales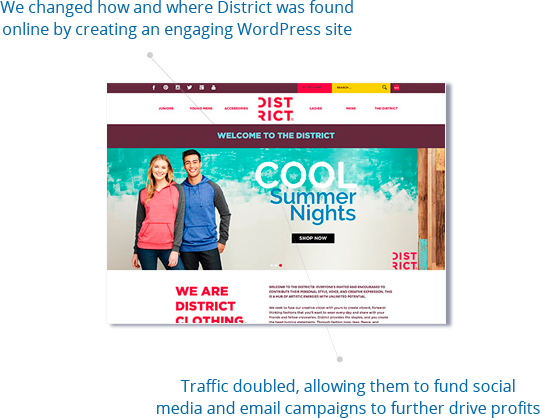 Increased traffic by nearly 200%.
District Clothing, a fashion basics retailer, was having a difficult time getting the brand recognition and traffic they deserved due to a highly competitive SEO landscape. They came to Coalition in hopes of bringing more traffic to their website and generating more revenue.
After designing and developing a new WordPress and Nexternal ecommerce website for them, we launched aggressive SEO and PPC campaigns that resulted in an increase in traffic to the brand's website by nearly 200%. Their site ranked alongside major multinational brands in ideal search results, and their revenue increased in tandem with that growth.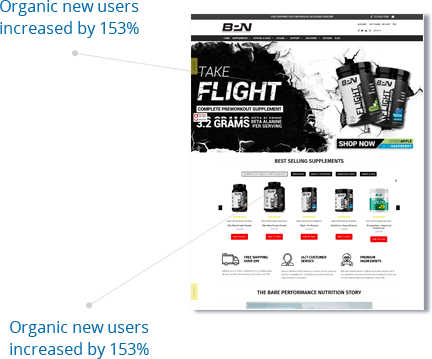 Organic revenue increased by 631% in just six months.
Bare Performance, a nutritional supplement company, came to Coalition because they needed a new website that would rank at the top in search results.
Once we built their website and completed SEO work, organic revenue increased by 631% in just six months. Organic sessions increased by 147%, and overall revenue increased 104% from $192,000 to $391,000.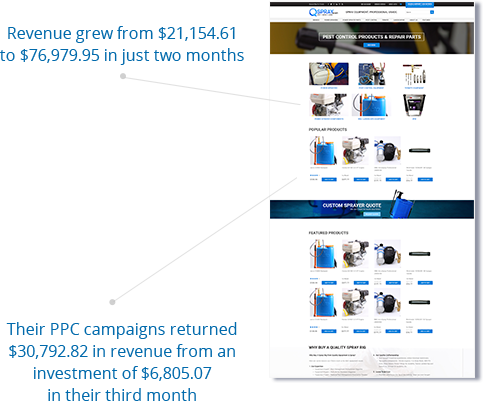 Increased revenue by 236.89% in just two months.
QSpray, a spray equipment specialist, came to Coalition for a new website and targeted SEO campaign. They needed to break into the digital market and trusted Coalition with the job.
After building their website, completing extensive SEO work, and launching their PPC campaign, we increased QSpray's revenue by 263.89% in just two months. They saw impressive ROIs of 281.55%, 352.50%, and 513.74% in the following three months.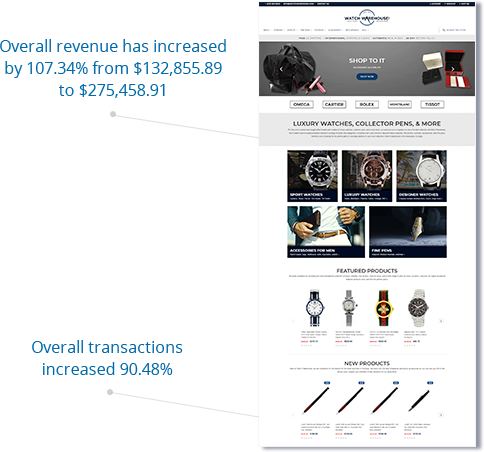 In comparison to the previous year, the site is attracting 89.36% more organic users.
Watch Warehouse, a discount watch dealer, came to us for a website redesign and multiple online marketing services in hopes of building a better web presence and increasing their revenue.
Once we designed their new website and optimized their PPC efforts, organic revenue increased by 169.11%, organic transactions increased by 128.89%, and their Google Ads campaigns showed an ROI of 2,257% with a spend of $7,235 generating $170,562.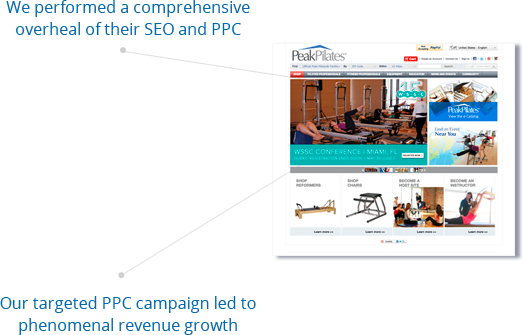 Organic revenue grew by 820% during the first two years.
Peak Pilates, a cutting-edge fitness company, needed to stand out in a competitive market so they came to Coalition.
Once we completed their web design, an extensive SEO overhaul, and launched their PPC campaign, organic revenue grew by 820% during the first two years. They also experience a higher conversion rate through all search channels.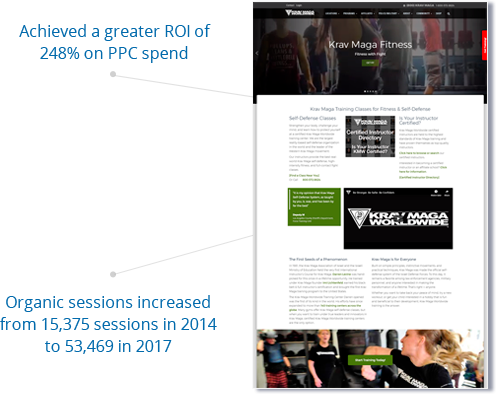 ROI grew to 248% on PPC spend
Krav Maga Worldwide, leaders in Krav Maga self-defense training classes, wanted to reach more users and increase class attendance. They came to Coalition for graphic design, SEO, WordPress, PPC, web design, and web development.
Through our web design, SEO, and PPC campaigns, they saw an increase of 248% in organic sessions and organic new users grew by 281%.
Our Web Design Process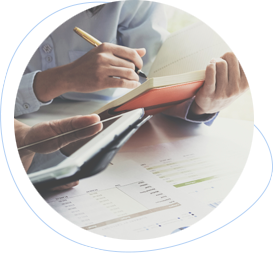 1
Analysis
Once we've gathered enough information from you about the scope of your project, we will conduct an analysis of your current web presence to provide you with a strategy, timeline, and forecast that includes a competitor strategy review for free. Once the terms of work have been defined, we will provide you with an agreement and move forward with your account.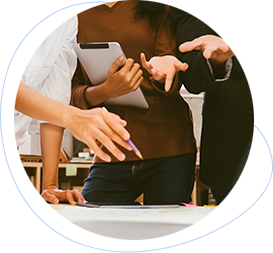 2
Your Team
When you become a Coalition client, you are assigned an account manager and project-specific team members who will work with you throughout the entire process. Your account manager will communicate with you for the duration of the project and keep our team on scope. Once we have assembled your team, we will move on to design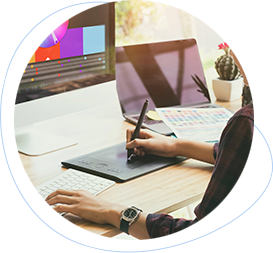 3
Design Stage
With your strategy and team in place, we will begin the design process. Throughout each step, we will provide wireframes, mock-ups, and copy drafts to guarantee that your vision is our vision. Once you're completely happy with our proposed design, we will move on to development.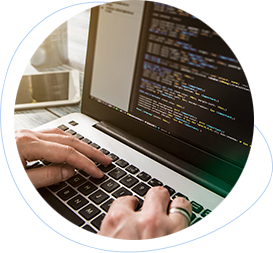 4
Development Stage
In the development stage, we bring your vision to life. Our developers work within the agreed-upon timeline to deliver a website that is attractive, brand-focused, and responsive. Once we have submitted the final design and you are 100% satisfied with the website, we will move on to deployment.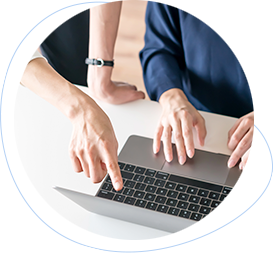 5
Deployment and QA Stage
Now that we have your final build in place and QA testing is done, we will launch your site to your domain! Depending on the services you've requested, we may also launch your PPC, email, and social media marketing campaigns at this point to guarantee high traffic volumes and the maximum number of conversions.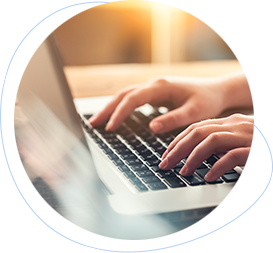 Integrated Marketing
Our team of 180+ has expertise in SEO, PPC, web design and development with a 600+ successful client track record.
Proven Results
Our checklists, systems, and processes lead to consistent results across our clients.
Expert Support
Our world class team is headquartered in Los Angeles and are able to resolve any issue.
Powered By The World's Most Advanced Agency Software
Coalition has built highly advanced software to drive your business forward:
Integrations with every best in class 3rd party marketing software (Google Analytics, SEMrush, Search Console, WebCEO, Screaming Frog, Google Ads, and many more)
Checklists and processes for every service line to ensure that amazing ideas one employee learns for one client instantly get put in place for all clients
Extraordinarily advanced tools and reports that bring consistent results across all of our clients
Recruiting tools that allow us to hire only the top 1% of applicants through automated skills testing processes, structured scoring and ranking methodologies, and more.
130+ Advanced university level digital marketing courses to train our team in cutting edge techniques.
Highly motivating incentive programs for employees so that when our clients get great results, employees can see their take home pay double or triple
350+ Web Design Case Studies
All work done by full-time Coalition experts
Google Certified Partner
4.7average review rating on Google with 119 reviews
4.8average review rating on Facebook with 50+ reviews
4.7average review rating on Featured Customers with 1,200+ reviews
See how we created a beautiful website for
Nickel & Suede that, along with our SEO and PPC efforts, increased their revenue by 194.97%
Learn how we designed and developed a new website for Wendell August Forge that generated 341% growth in their total revenue in just 5 months.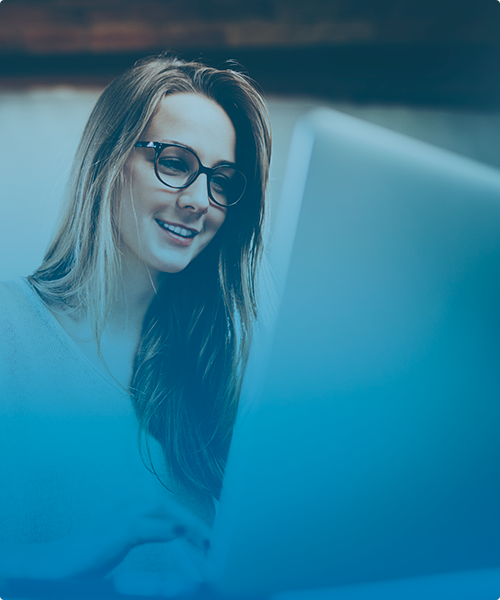 Amandeep

Web Development Manager

Brittney

Digital Producer Team Lead

Bryan

Accounting Team Lead

Carl

Director of Digital Strategy

Charline

Digital Producer Team Lead

Chris

SEO Reporting Team Lead

Christian

SEO Specialist Manager

Deepak

SEO Analyst Team Lead

Gabrielle

Recruiting Team Lead

Hamza

Solutions Development Team Lead

Ivona

Recruiting Team Lead

Jonathan

Back End Team Lead

Kanika

SEO Specialist Team Lead

Karan

Quality Assurance Team Lead

Karanbeer

Front End Team Lead

Rebecca

Marketing Team Manager

Suresh

SEO Analyst Team Lead

Tyler

Digital Producer Team Lead

Ambrogio

Front End Developer

Avionne

Digital Strategist Assistant

Carrie

Web Digital Producer

Charles

Web Digital Producer

Charles

Digital Strategist

Czarina

Digital Strategy Assistant

Devin

Web Digital Producer

Dewayne

Web Digital Producer

Evangeline

Digital Producer

Gurpreet

Front End Developer

Harpreet

Front End Developer

Heather

Digital Producer Assistant

Jason

Assistant Reporting Analyst

Jayme

Web Digital Producer Team Lead

Joseph

Front End Developer

Katie

Copy Strategist Trainee

Komal

Quality Assurance Specialist

Kowshik

Front End Developer

Krista

Web Digital Producer Assistant

Kristina

Digital Producer Assistant

Laurel

Assistant to the CEO

Monique

Digital Strategist Assistant

Nehemiah

SEO Reporting Analyst

Nikki

Reporting Analyst Assistant

Nirlep

Front End Developer

Pedro

Reporting Analyst Assistant

Prabhjit

Front End Developer

Reuel

Web Digital Producer

Shahrukh

Laravel Developer

Simer

Assistant to the Dev Manager

Steffy

Digital Strategist Assistant

Tiffany

Assistant Copy Strategist

Tyler

Web Digital Producer

Vatsal

Quality Assurance Specialist
What High-End Web Design Can Do for You
In today's competitive marketplace, an adequate website just won't cut it. Online shoppers have become accustomed to responsive websites that are easy to use, appealing to the eye, and fast. A recent study showed that the average user would click off a website that took longer than 3 seconds to load. Three seconds! If your website isn't meeting or exceeding a user's expectations, you're going to lose authority, trust, and especially revenue. However, a well-designed website can define your brand, engage your audience, and drive your sales beyond expectation.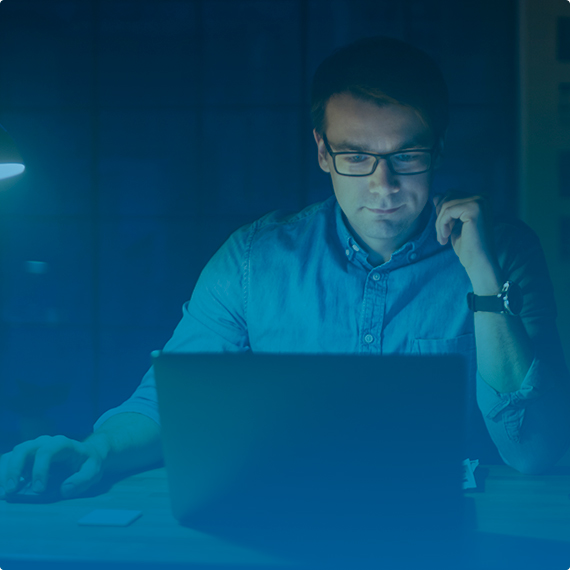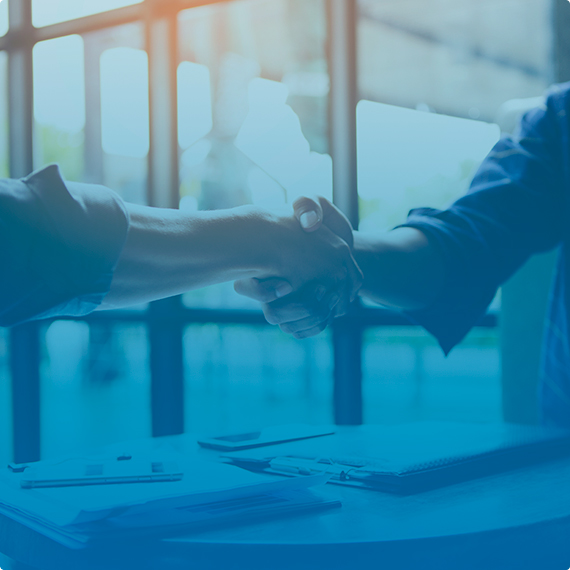 What Coalition Technologies Can Do for You
Coalition Technologies has built an expert team of web designers and developers who are at the forefront of the industry. Through innovation and continuous learning, we are able to stay on top of an ever-changing landscape and deliver cutting-edge designs that put your website a step ahead of the competition.
With over 600 successful client case studies, Coalition can prove our results. We can show you how we increase traffic, reduce bounce rates, and drive revenue. Take a look at our case studies and see how our web design services have generated hundreds of millions of dollars for our clients. We will do the same for you.
Work with Coalition
If you want to future-proof your website and generate more revenue, contact us today. Our exceptional team of web designers and developers will review your website and provide you with an analysis, strategy, and timeline that includes a competitor strategy review for free. We can get you started immediately, so call us right now at (888) 743-1021 and start making more money.