WE'RE THE BEST SEO TEAM
#1 SEO Agency in Los Angeles
Many High ROI Jewelry SEO Case Studies
Over 130 SEO & PPC Experts, Digital Marketers, and More
Top Rated SEO Agency on

Yelp

Google AdWords Certified Partner
Worked With Trumpet & Horn, Dara's Diamonds, Southwest Silver Gallery, and many more
WHY THE JEWELRY INDUSTRY NEEDS SEO & DIGITAL MARKETING
According to Research and Markets, the online fine jewelry market is expected to capture 10% of the global market by 2020. This is why online SEO for jewelry brands is no longer optional – it is necessary to thrive online.
Naturally, brick-and-mortar stores will continue to have their place in this luxury sector, but more and more retailers are experiencing dazzling sale numbers in eCommerce and benefitting from local optimization that entices customers to visit. Now that the global jewelry market has eclipsed $500 billion, top companies are also eager to enhance their online reach.
As the competition ramps up, online retailers need to stay ahead of the curve. Some, frankly, are looking more brilliant than others. For every jewelry site that strikes gold, many more have found figurative pyrite. The jewelry sites that fail in eCommerce are often partnered with an inexperienced team unfamiliar with the industry that fails to bring color to its content and clarity to its SEO strategy.
For top results in AdWords and SEO, leaders in the jewelry industry have turned to Coalition Technologies. With a proven track record in online jewelry sales, we are the professionals that will make your business shine.
Our Jewelry Portfolio. Click thumbnail to visit site.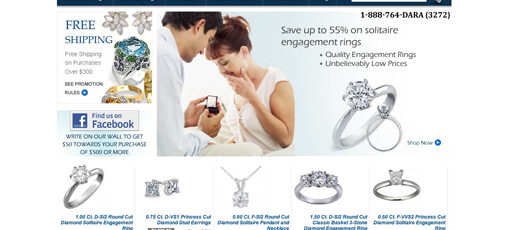 SEO

Search Engine Optimization




Higher Page Rankings

On Search Engines like Google




Increased Traffic

To your website




Increased ROI

Return On Investment
Contact
Coalition Technologies
3750 S Robertson Blvd, Suite #200
Culver City, CA 90232
We're Coalition Technologies
Coalition Technologies is a global team that employees the best talent in the world. With full-time offices on four different continents, the sun never sets on Coalition Technologies.
Amandeep

Web Development Manager

Brittney

Digital Producer Team Lead

Bryan

Accounting Team Lead

Carl

Director of Digital Strategy

Charline

Digital Producer Team Lead

Chris

SEO Reporting Team Lead

Christian

SEO Specialist Manager

Deepak

SEO Analyst Team Lead

Gabrielle

Recruiting Team Lead

Hamza

Solutions Development Team Lead

Ivona

Recruiting Team Lead

Jonathan

Back End Team Lead

Kanika

SEO Specialist Team Lead

Karan

Quality Assurance Team Lead

Karanbeer

Front End Team Lead

Rebecca

Marketing Team Manager

Suresh

SEO Analyst Team Lead

Tyler

Digital Producer Team Lead

Ambrogio

Front End Developer

Avionne

Digital Strategist Assistant

Carrie

Web Digital Producer

Charles

Web Digital Producer

Charles

Digital Strategist

Czarina

Digital Strategy Assistant

Devin

Web Digital Producer

Dewayne

Web Digital Producer

Evangeline

Digital Producer

Gurpreet

Front End Developer

Harpreet

Front End Developer

Heather

Digital Producer Assistant

Jason

Assistant Reporting Analyst

Jayme

Web Digital Producer Team Lead

Joseph

Front End Developer

Katie

Copy Strategist Trainee

Komal

Quality Assurance Specialist

Kowshik

Front End Developer

Krista

Web Digital Producer Assistant

Kristina

Digital Producer Assistant

Laurel

Assistant to the CEO

Monique

Digital Strategist Assistant

Nehemiah

SEO Reporting Analyst

Nikki

Reporting Analyst Assistant

Nirlep

Front End Developer

Pedro

Reporting Analyst Assistant

Prabhjit

Front End Developer

Reuel

Web Digital Producer

Shahrukh

Laravel Developer

Simer

Assistant to the Dev Manager

Steffy

Digital Strategist Assistant

Tiffany

Assistant Copy Strategist

Tyler

Web Digital Producer

Vatsal

Quality Assurance Specialist
CUSTOMIZED DIGITAL MARKETING AND SEO STRATEGIES FOR JEWELRY BRANDS
If you are looking for an online SEO strategy for your business, Coalition Technologies is excited to show you why we're the best team around! Our expertise in the SEO and digital marketing industry is why we have excelled and why we have been able to build a highly efficient and capable team of 100+ professionals.
When you begin your SEO campaign, our team will assemble a strategy featuring these services and more:
Brand development
Content marketing
Research on organic and paid search keywords
Competitor research
Digital PR and linkbuilding
Ad strategy and development for videos, images, banners, and social media
Ensure proper Google Analytics tracking
Ensure proper Google Analytics and Adwords linking
Redesign or Migrate Your Website
Jewelry relies on vivid imagery and elegant merchandising in order to resonate with customers. That's why we specialize in data-driven SEO strategies and the most innovative web design and development techniques to give you a site that ranks well while showcasing your products perfectly. We also partner with the biggest eCommerce platforms such as Magento, Shopify, and BigCommerce, industry leaders who have designated us:
BigCommerce Certified Elite Partner Agency
Shopify Plus Expert Agency
Magento Certified Solutions Partner
We've guided countless brands through seamless migrations in which we've retained revenue-generating keyword rankings and valuable site traffic. On many of our campaigns, clients have actually noted substantial growth due to our design and migration work.
THE MOST INNOVATIVE JEWELRY SEO SERVICES
If you are ready to invest in the success of your business, trust our team of dedicated SEO, PPC, UX, and marketing experts. We're excited to hear your vision and to describe to all the different ways we make your vision become a reality.
Get your free quote today. Call 310.827.3890, email us at sales@coalitiontechnologies.com, or use our online contact form.