Work With the Best Business and Industrial Lead Generation Company
Increase your leads and your revenue today.
A Top-Rated SEO Services Company for Industrial and Manufacturing Businesses
These days, manufacturers and industrial companies know how hard it can be to compete online. Our manufacturing and industrial SEO services can help your business stand out both in local and global searches.
Facebook Marketing Partner
ROI-driven campaign planning
Persona-driven content marketing strategy
WHY YOUR BUSINESS NEEDS OUR INDUSTRIAL AND MANUFACTURING SEO SERVICES
With our team's decades of collective digital marketing experience, we have learned that getting more leads for our manufacturing and industrial clients requires dedicated, specific strategies based on your goals. We take the time to understand what you need done, and we make sure we understand your business so we can create a personalized strategy that fits your business goals and needs. With our proven SEO processes, we are confident in your success.
How Our Lead Generation Process Works
Some of the most important processes we use to generate leads include: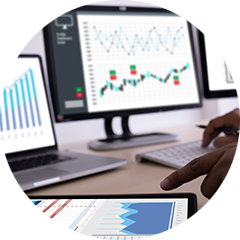 1
Identify Demographics
Through analysis and research, we identify the ideal demographics for your business so we can target the right audience.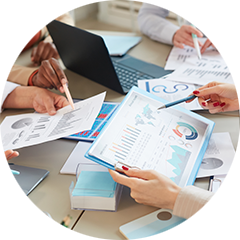 2
Generate Targeted Traffic
Through SEO, PPC, and other methods, we generate targeted traffic and direct them to your website based on your key demographics.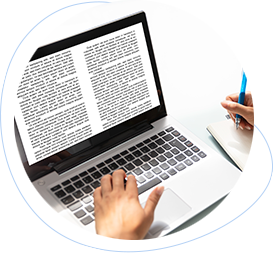 3
Build Trust and Educate
We create unique, optimized copy for your website that educates your customers and builds their trust with your brand.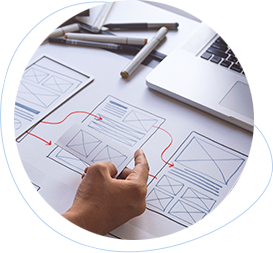 4
Analysis and Optimization
We analyze every aspect of your website, change anything that needs to be improved, and optimize all of your copy to raise your rank in the SERPs.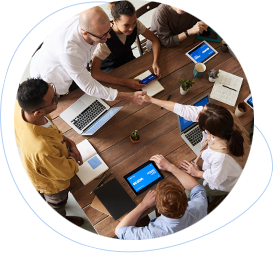 5
Profit
By identifying the right demographics for your products or services, generating targeted traffic based on those demographics, and leading them to your website, you will increase your conversions and revenue.
Our Integrated Approach
Content Creation
We create informative, relevant, and high-quality content.
Technical Optimization
We analyze your website and look at many factors to determine what needs to be fixed and then implement the best SEO practices.
Link Building
We create relevant and high-quality inbound and outbound links.
Local Optimization
We make sure your business presence is optimized and appears in local search on major search engines.
Keyword Research
Comprehensive keyword research to find the most relevant and best keywords to use for your website pages.
Conversion Rate Optimization
We make sure your website is well-structured and provides the best user experience that will increase your leads and sales.
Our Work Includes 600+ Websites Built
Featured Projects
A Safe Pool
Find out how we increased organic traffic by 90.86% for this Arizona-based pool barrier dealer.
Two Way Direct
Learn how we nearly doubled site traffic for a two-way radio supplier.
600+ Case Studies Driving Sales
An additional $125,000 in profit in the first year.
Spinning, a global indoor cycling brand, came to Coalition after nearly losing money on their PPC efforts. They wanted to increase traffic and revenue while lowering their PPC spend.
Our initial improvements netted them $125,000 more profit in the first year. Our SEO efforts brought them up to an average of $300,000 a month in revenue, and our PPC campaigns generated $6,000,000 in revenue in just three years.
ROI increased by 868% in six months.
Urban Armor, an Apple accessories retailer, had a strong Amazon presence but couldn't break through in the ecommerce space. They needed a strong website to build better customer loyalty and brand awareness, and they chose Coalition for the project.
Within six months of the new website's launch, Coalition's work provided an 868% return on investment. Organic revenue was up by 358%, from $20k to $92K in just a year.
Organic traffic increased by 492%.
Emmer & Oat, a family-owned fashion label, transferred from an Etsy shop to their own ecommerce website and came to Coalition looking for an increase in their conversion rate and higher revenue.
With our PPC and SEO efforts, we increased organic traffic by 492% and new organic users increased by 320%. Their overall revenue increased by 100%, resulting in $554k in overall revenue.
This once-unknown brand reached #1 in search results.
All Fit Automotive, a specialty car lip company, was struggling to accomplish brand recognition in their niche industry before they came to Coalition.
With our SEO, PPC, and web development work, we were able to increase brand recognition, drive paid traffic to their site that resulted in higher revenue, and bring them up to #1 in search engine results for "car lip kits".
Monthly revenue increased by 65.47% in just 10 months.
Natori, a luxury lifestyle brand, came to Coalition after another BigCommerce Enterprise partner mishandled their migration. They wanted to increase brand recognition and place a higher emphasis on their ecommerce.
After we corrected numerous technical issues with both the site development and the site migration, we got to work on SEO and PPC. Their monthly revenue grew from $221,000 to $366,000 for an impressive 65.47% growth in just 10 months. Over time, organic revenue has increased by 86.30% with organic transactions increasing by 82.27%.
PPC ROI hit an impressive 1,693.15%
West End Motorsports, a motorcycle parts retailer, came to Coalition because they weren't seeing the growth they were hoping for when they transitioned to a new platform. Their traffic and sales were dropping and they needed us to reverse that.
After we fixed some of their migration issues and launched multiple PPC campaigns, monthly organic revenue increased from $577,000 to $817,000, and overall revenue increased from $1.6 million to $2.2 million in a year.
Overall revenue increased by 800%.
Selfie Leslie, an Australian fashion retailer, was looking to drive more organic traffic to their site and see more stability in their revenue so they came to Coalition.
Through our SEO and PPC campaign work, their website is receiving 828% more organic sessions, organic revenue increased 1,175.66%, and their overall revenue has increased by 800% since last year.
Certified Google Ads Premier Partner
Over 600 outstanding client case studies
Over 200 full-time digital marketing experts
Hundreds of millions of dollars generated for our clients
100+ reviews on Google with a 4.7average
50+ reviews on Facebook with a 4.8average
1,200+ reviews on Featured Customers with a 4.7average
Get a FREE Project Plan and Scope Now
Amandeep

Director of Design & Development

Carl

Director of Digital Strategy

Rebecca

Director of Marketing

Aaron

Copy Strategist Team Lead

Abdul

PPC Team Lead - Search

Andrea

Public Relations & Link Building Team Lead

Christian

Results Manager

Czarina

Digital Strategy Assistant Team Lead

Daniel T.

SEO Analyst Team Lead

Deepak

SEO Analyst Team Lead

Eric V.

Front End Development Team Lead

Hamza

Solutions Development Team Lead

Ivona

Recruiting Team Lead

Jayme

Design & Development Digital Producer Team Lead

Jonathan

Back End Team Lead

Julio

Front End Team Lead

Karan

Quality Assurance Team Lead

Karanbeer

Front End Team Lead

Katie

Reporting Team Lead

Kristina M.

Marketing QA Team Lead

Manoj

SEO Analyst Team Lead

Myra

Operations Support Team Lead

Raj

Full Back End Team Lead

Reuel

Web Digital Producer Team Lead

Rohit

SEO Analyst Team Lead

Ryan

Marketing Digital Producer Team Lead

Sarah S.

Digital Producer Team Lead - Marketing

Thys

Digital Producer - Marketing Team Lead

Tiago

SEO Development Team Lead

Tiffany

Copy Strategist Team Lead

Umair

Front End Team Lead

Vivek

PPC Analyst Team Lead

Abongile

Senior SEO Analyst

Aisha

Associate Digital Strategist

Ambarish

Front End Developer

Ambrogio

Front End Developer

Ambrosia

Digital Producer

Amy

Associate Marketing Digital Producer

Annamariah

Digital Producer Trainee - Marketing

Ashley

Digital Producer Trainee - Marketing

Avionne

Digital Strategist Assistant

Brooke

Assistant Reporting Analyst

Carolyn

Assistant Copy Strategist

Charles

Digital Strategist

Cody

Digital Producer Trainee - Marketing

Cyd

Assistant Copy Strategist

Daniel S.

Digital Strategist

Deahna

Junior Reporting Analyst

Diana

Digital Producer Trainee - Marketing

Dianne

Digital Strategy Assistant

Digna

SEO Analyst - Link Building

Divya

Front End Developer

Gabi

Assistant Copy Strategist

Garrett

Marketing Digital Producer Trainee

Grace

Marketing Digital Producer Trainee

Harpreet

Front End Developer

Hunter

Digital Producer Trainee - Marketing

Jameson

Digital Producer Trainee

Jennifer I.

Digital Production Assistant - Marketing

Jennifer L.

Marketing Digital Producer

Jessica S.

Associate Digital Producer - Marketing

Jessica T.

Digital Producer Trainee - Marketing

Joseph

Front End Developer

Josiah

Back End Developer

Julie

Digital Producer Trainee - Web Design and Development

Kate

Associate Digital Producer - Marketing

Kathy

Digital Producer Trainee

Kelsey D.

Associate Email Marketing Strategist

Kevin K.

Digital Strategist

Kevin S.

Digital Strategist

Kimberley

Marketing Digital Producer

Komal

Quality Assurance Specialist

Krista

Web Digital Producer Assistant

Laurel

Assistant to the CEO

Matt

Associate Digital Producer - Marketing

Meagan

Digital Producer Trainee - Marketing

Megan

Copy Strategy Assistant

Mohammad

Back End Developer

Morty

Associate Digital Producer - Web Design and Development

Neeraj

SEO Analyst Trainee

Nehemiah

SEO Reporting Analyst

Norah

Associate Digital Producer - Marketing

Pauline

SEO Analyst Trainee

Romeo

Front End Developer

Sam

Assistant Copy Strategist

Sarah O.

Recruiter Trainee

Scot

Marketing Digital Producer

Sevdha

Associate Digital Producer - Marketing

Shaina

Digital Producer Trainee - Marketing

Shardé

Digital Strategy Assistant

Shiela

Operations Assistant

Sierra

Personal Assistant

Simer

Assistant to the Dev Manager

Sneha

Front End Developer

Steffy

Digital Strategist Assistant

Stephanie

Associate Digital Producer - Marketing

Steve

Associate Digital Producer - Marketing

Steve

Digital Producer - Web Design and Development

Tibor

Front End Developer

Tim

Assistant Copy Strategist

Tyler

Web Digital Producer

Unigwe

Back End Developer

Vajra

Front End Developer - Trainee

Victoria

Recruiter Trainee

Xevran

SEO Analyst Trainee